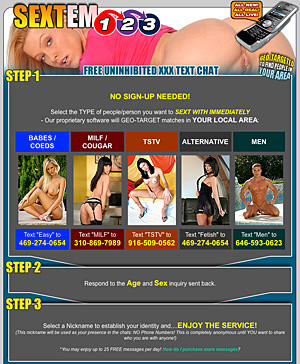 : : SextEm123.com

Taking advantage of the wild popularity of "sexting" (sexual based text messaging), Lxs has developed a service that connects people via their mobile phone based on their area of interest. To date, SextEm123.com has had tens of thousands of satisfied SextEm123.com members join. SextEm123.com offers its members multiple chat rooms covering the Straight, MILF, SheMale, Alternative and Gay markets; this variety allows members to get hooked in with loads of singles out there texting about the same things that turn them on!

As an added benefit, the service is completely anonymous. Members can create their own nicknames, and their actual mobile phone number is never shared by our system to other members. This allows everyone to feel free and uninhibited, and gives them a satisfaction that other services are unable to provide.

To join, it's as easy as sending a free text message to your chosen chat room, responding your with age and sex, and then you're off to meet all kinds of naughty people who want to message you and connect. The basic service is free and provides a plentiful amount of daily messages. Users are also given the option to purchase premium packages for a nominal fee, which allows them greater access to the chat room services.