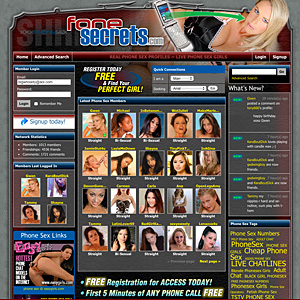 : : FoneSecrets.com

FoneSecrets.com is a fully interactive social media website designed to foster connections between real life phone sex providers, their fans and the public.

Providers and consumers alike can quickly and easily set up their very own membership and personal profiles. Members then use the site to search out other like-minded individuals by service type (straight, she-male, fetish, sex act, etc.), location, age, and any other number of parameters. Members then have the option to chat live via IM, direct message each other, friend each other, comment, upload and view photo albums, etc. FoneSecrets.com takes all the functionality of a full, robust social media site and gears those offerings towards the avid phone sex consumer or provider!

For those members who want to take it to the next level, all phone sex providers have their own unique phone numbers, which allows members to speak live with the type of person that will fulfill that member's desires. Mobile phone numbers that offer free text message service are also provided by each phone sex provider, giving members a full range of ways to connect with other members.